WrestleMania XIV in 1998 had plenty on the line as Austin took on fellow wrestling legend Shawn Michaels, but even more spice was added with 'The Baddest Man on the Planet', who got $3m for taking part.
It was the first time Tyson had been in a ring since having his boxing license suspended for biting Evander Holyfield's ear during a fight.
At Wrestlemania, though, the bigger concern was if Michaels would make it to the ring.
"He wasn't in a good place at that time, in his head, in his back, he was beat up and battered and I was on fire," Austin explained to WWE.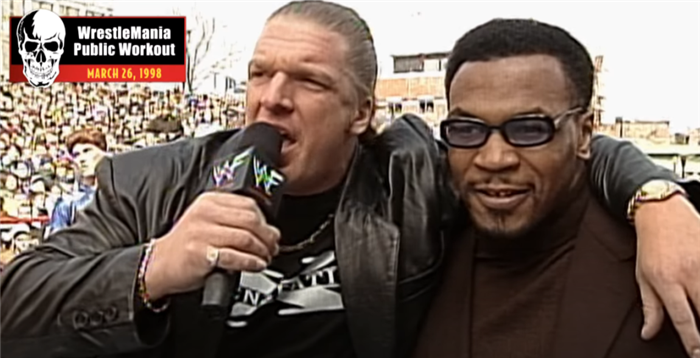 Austin was on fire, and about to become champion, but even at the top of his game he was still scared of Tyson. Sort of.
Initially thinking the idea would be a fight between the two, the Texas Rattlesnake explained: "I was Stone Cold Steve Austin, and when I'm Stone Cold Steve Austin I'm in 150 per cent.
"I was smart enough to know my place, I've got no business going up against Mike Tyson and killing everything I've built by him knocking my ass out in 20 seconds of the bell ringing."
However, Tyson's role was 'ring enforcer' and the publicity having him in the build up and in the ring shot Austin and the company to another level of fame. Now it was not only wrestling fans interested, but the wider public too.
They put on an open workout like in boxing and it saw Triple H, Michaels and Tyson teaming up to pin Austin down and plant kisses on his bald head.
There was a press conference that obviously broke out into a fight with Tyson jumping in between, but on 'fight night', Austin took the honours.
What seemed like a bad day at the office in the aftermath turned out to not only be lucrative for the boxing superstar, but also era defining for Austin and the world of wrestling as he became the face of the 'Attitude Era'.