Muhammad Ali was one of the great orators of his generation and he put it to good use, tackling some of the most serious issues of the time, including racism and war.
Outside of activism, Ali's way with words would come across most prominently in press conferences, as he would almost speak in poetry.
"I done something new for this fight," he said ahead of his clash with George Foreman in 1974, which was billed as 'The Rumble in the Jungle'.
"I done wrestled with an alligator. That's right. I have wrestled with an alligator.
"I done tussled with a whale. I done handcuffed lightning, thrown thunder in jail. That's bad!
"Only last week I murdered a rock, injured a stone, hospitalised a brick! I'm so mean I make medicine sick!"
With such a knack for speaking in rhyme, in 1963, the year before Ali beat Liston to become heavyweight world champion, he released an album of 'spoken word', with the first track entitled 'I am the greatest'.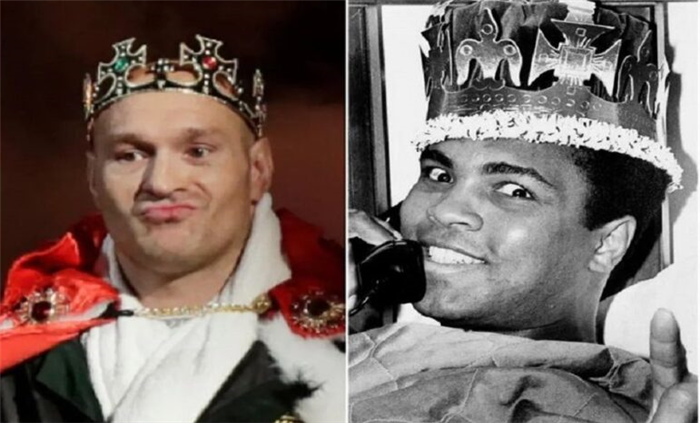 Tyson Fury, however, while not quite as eloquent as Ali, is equally as entertaining through his bluntness and honesty.
A few years earlier, in only his second fight after making a comeback to boxing, Fury came up against Italian heavyweight, Francesco Pianeta.
'I'm going to go out there and smash him to pieces," he said at the pre-fight press conference.
"Make Italian sausage out of him. And that's it. Spicy meatballs!"
Even before his comeback, Fury was pulling the same antics, turning up to his pre-fight press conference with Wladimir Klitschko dressed as Batman and fighting the Joker.
After the fight, as the two boxers attended a media day ahead of their rematch, Fury took his shirt off to reveal his belly, which had grown considerably larger than it was during his fight with Klitschko a few months earlier.
"Shame on you," Fury said while addressing Klitschko. "You let a fat man beat you. I don't even live an athlete's lifestyle. It's a disgrace to call me an athlete."
But like Ali before him, Fury has used his charisma and mouth for good, recognising his position to make a difference.
He has and still does, use his considerable influence to address mental health issues, which he has suffered with personally.
So, while Fury and Ali may have had different styles they are two of the sports great entertainers and can be appreciated by any and all boxing fans.