Mike Tyson is a living legend in boxing – the youngest ever World Champion, crowned when he was just 20.
Following this incredible achievement, Tyson went on to win the WBA, ABC and IBF titles and to this day is the only fighter in the history of the sport to have unified them.
His sporting glories have often been eclipsed by controversy in his personal life – with Tyson serving time in jail for rape.
His boxing career began following the death of his mother when he was 16 and taken in by his trainer.
Turning professional when he was 18 after competing in the Junior Olympic Games, it was just one year later when he won his first title.
Following his victory, some of the biggest firms on the planet wanted to sign him to publicise their products and he seemed unstoppable.
An A-list marriage to Robin Givens followed, but just a year later the relationship had started to crumble.
Rumours of violence and domestic abuse swirled round the couple and in a now infamous and harrowing interview, Givens described her life with the boxer as "torture, pure hell, worse than anything I could imagine".
Three years later came Tyson's arrest for rape after he was accused of assaulting an 18-year-old woman in a hotel room.
He was jailed for six years in 1992 but released in 1995 having severed less than half of his sentence.
Incredibly, Tyson launched a comeback and was soon once again top of the boxing bill.
One of his most controversial fights followed two years after his release from jail when Tyson battled Evander Holyfield in the ring.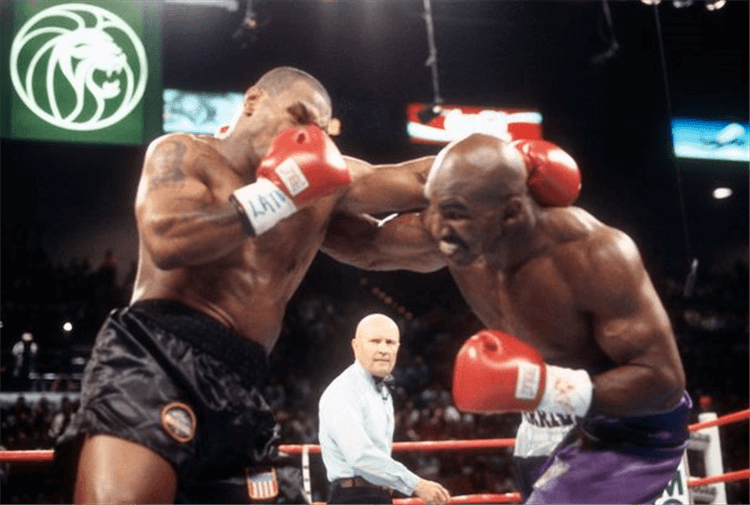 The fight has to be stopped at the end of the third round when Tyson bit his opponent on both ears, ripping part of the lobe clean off.
Then, in 2005, Tyson announced his retirement – leaving the boxing world stunned.
It was four years after this that Tyson would suffer his biggest tragedy – the death of his daughter, Exodus, four.
The youngster died at home and was found on the treadmill in the house's gym. It appeared she'd been strangled by a cord attached to the machine.
Sgt Andy Hill from the Phoenix Police Department said at the time: "We believe the child was on the treadmill but it was not running at the time. She might have been playing like it was."
Little Exodus was rushed to hospital close to her home in Arizona, and her father, who was in Los Angeles, raced to be at her bedside as she was placed on life support.
Tragically, nothing could be done to save Exodus and she passed away on May 25, 2009.
An emotional Tyson gave a poignant interview not long after his daughter's death where he said his first reaction had been to "get my gun, automatic, just like this and go crazy".
He added his "couldn't handle" what happened.
Since then, Tyson has turned his life around and is now regularly back at the gym – there have even been rumours of a comeback.