You never know what can happen in WWE, and that is especially true if you're involved in the action. One WWE referee remembers a huge WrestleMania moment, and the brutal consequences that came with it.
The Undertaker and The Giant clashed in a singles battle at WrestleMania 9 in Las Vegas in 1993. The enormous sizes of both men boded for a great match. However, Gonzalez's inexperience made the match very forgettable, with the contest finishing in disqualification.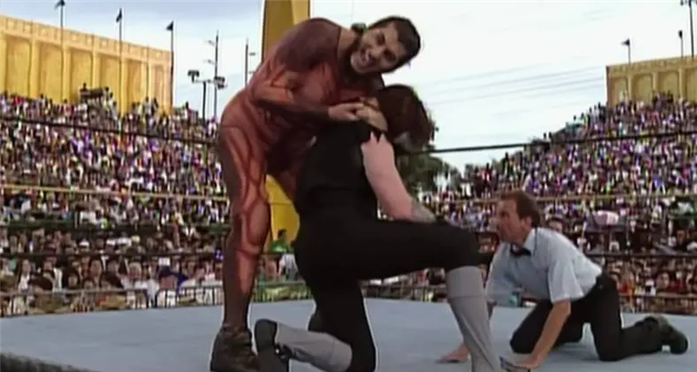 Former WWE manager and referee Bill Alfonso revealed how he was knocked out by Taker's opponent, Giant Gonzalez, in a match that helped develop The Undertaker's fabled WrestleMania streak. Alfonso, who refereed the match, told Dr. Chris Featherstone on UnSKripted how Gonzalez's chokeslam after the match legit knocked him out.
It was very cool, I was flattered to be on the card at first. You know it being WrestleMania, that's a big pay day a big thing, the largest professional wrestling event in history is WrestleMania….. The finish was, Giant Gonzalez grabs me and gives me a chokeslam, I must have been up 15 foot in the air and he drives me down, he literally knocks me out cold.
The Undertaker's triumph over Giant Gonzalez was his third on the biggest platform of them all. It was only the start of his legendary WrestleMania streak. To get the latest updates, keep an eye on Ringside News.