Muhammad Ali could take a punch. In 21 years, across 61 bouts and 548 rounds he was knocked down just four times. Of those four, the 'knockdown' by Chuck Wepner in 1975 could fairly be dismissed as a slip, leaving just three men who can say they felled the self-proclaimed 'greatest of all time'.
A left hook – a rare chink in Ali's armour – accounted for all three. The first came in only his 11th professional fight in his debut at New York's Madison Square Garden, where he suffered a flash knockdown at the hands of the little-known Sonny Banks. Ali was floored for barely a second before springing back to his feet and eventually winning in round four.
Three hundred million people – including half the UK's population – watched as Ali was sent to the canvas by great rival Joe Frazier in 1971. Ali rose after three seconds, but would lose on points in what was his first professional defeat.
Yet only one man truly shook Ali to his core: Henry Cooper, of Bellingham, south London.
If the knockdowns by Banks and Frazier left little mark on Ali, the one inflicted by Cooper at Wembley Stadium in 1963 'hit me so hard my ancestors in Africa felt it', the American would later say.
Cooper was what is known in boxing as a bleeder. He could sneeze and a cut would open up on his face, the joke went. Many of his promising performances were derailed when the blood started to flow from his delicate skin.
The opening of a wound served as a signal to Cooper that he needed to end a fight before the doctor stopped it for him.
So it was when he faced Ali, still going by his birth name Cassius Clay and just 21 years of age, on June 18, 1963. It was Ali's first fight outside of America and he entered with an 18-0 record.
This trip was an opportunity for Ali to gain some exposure outside his homeland, and the Louisville Lip wasted little time in teasing his hosts. 'The cars are too small, the streets are too narrow and I haven't seen as many pretty girls as at home,' he told reporters.
All in jest, of course – Ali would make many lifelong friends on these shores – but, in truth, behind the quips his mind was elsewhere. More accurately, it was firmly occupied not by Cooper but by menacing world heavyweight champion Sonny Liston.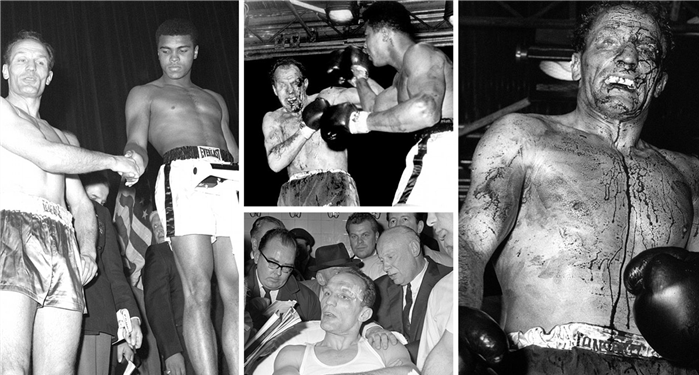 Ali had been talking about Liston for months, desperate for a shot at the Big Bear's title. Yet Liston was due a rematch with Floyd Patterson, so instead Ali had to settle for a showdown with the 29-year-old Cooper, the world's fifth-ranked heavyweight.
Cooper, for whom the cruiserweight division arrived far too late, was small for a heavyweight, and he conceded 21.5lbs to Ali.
With his usual bombast, Ali labelled Cooper a 'bum' and predicted the fight would end in round five.
Cooper, always a gentleman, took it all in his stride. After all, the bout would enhance his standing in the sport and, though he was fighting for a fixed fee, he was due a cut of the ancillary rights – television and cinema, for example – so the more people who tuned in the more money would go in his pocket. The British fans were less impressed and pelted Ali with missiles as he entered the ring wearing an enormous crown.
Cooper started fiercely, stalking Ali and repeatedly throwing his money punch: 'Enry's 'Ammer – his almighty left hook. After just 30 seconds, he had bloodied Ali's nose, sending the 35,000 crowd – including celebrities Elizabeth Taylor and Richard Burton — into a frenzy. Round one to Cooper.
'That round has done wonders for British professional boxing,' gushed commentator Harry Carpenter.
Cooper also edged the second, but he had suffered a small cut below his left eye. Matters worsened for the Brit when Ali opened up a huge gash above that same eye in round three. This changed everything.
'It's a tragedy,' decried Carpenter. 'This is what we always feared'.
With blood pouring into his eye and his vision severely impaired, Cooper became a far easier target for Ali's dazzling array of punches.
The American began toying with his opponent, taunting him with his hands low by his waist. However, perhaps with his round-five prediction in mind,
Ali was coasting and not making any real effort to finish off Cooper. 'This is complete cheek,' Carpenter grumbled.