Well, even Donnie Yen was afraid of Mike Tyson's punches during the fight scene, as he could feel the intensity while blocking them. And in the video, it can be seen that Mike Tyson is teaching Yen some boxing moves for making the scene feel more real and impactful. Donnie Yen also revealed later that he accidentally fractured 'Iron' Mike's pinky finger.
Yen is well known for his Ip Man 4-film series, but currently, he also played the legendary role of a blind assassin in the latest memorable movie, John Wick: Chapter 4. In the Facebook Post, fans went crazy as it refreshed everybody's memory about the iconic fighting choreography in Ip Man.
Moreover, recently, Donnie Yen talked about the incident that took place during the filming, so, the fans definitely had a field day in the comments section of the Post.
Fans react to behind-the-scenes footage of Mike Tyson in the 'Ip Man 3'
The fans couldn't keep calm after watching the glimpse of what actually happened during the fight scene. They also witnessed how the Ip Man team choreographed it to make it one of the best things ever done in cinema history. A fan, Duane Royster, recalled the fractured finger incident and wrote, "Is that when he got his finger broken?"
One of the fans, Igor Vishnevsky, talked about the greatness of Mike Tyson. They wrote, "Mike is one of the Greatest!👊👍".
Another fan, Timothy E. Trevithick, also praised Mike Tyson and appreciated him as a fighter. They wrote, "Iron Mike is the BOMB. NO SHIT. He has fast hands and feet. And probably the hardest-hitting guy in the world. He is and has always been one of the best fighters. Ever."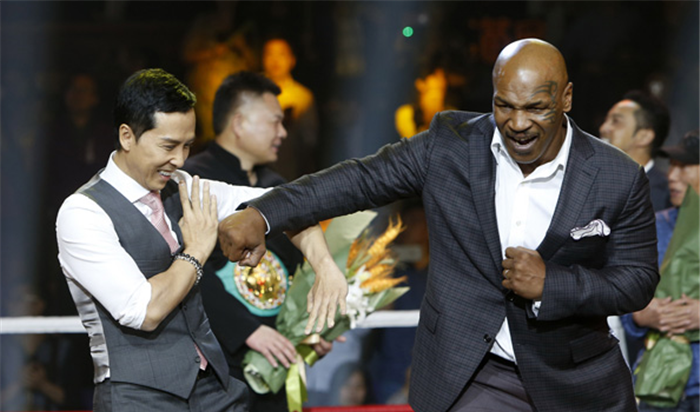 Ojing Rampal stated that both Donnie Yen and Mike Tyson are amazing people but, pointed out that Mike Tyson is a real-life fighter. They wrote, "👍 Both are great! but Mike is real life GOAT 💪💯".
A fan, Kyle Wallace Orr, praised Yen as an actor. They wrote, "Donnie Yenn is goated".
Lastly, one fan named Armand Placide, asked an important question after watching the video, as they wrote, "What is than the best? WT or Box?"