The boxing world is currently abuzz with excitement over a rare photo of three former legendary champions – Muhammad Ali, Joe Frazier, and George Foreman. The photo has reignited discussions on who would come out on top if they were to fight each other in their prime. Mike Tyson's inclusion in these discussions has sparked debate among fans and experts.
"George Foreman's arms are huge!!!" : The photo is attracting a wide range of reactions!
A user with the username " Lovett Halsey III" wrote: "Ali is the only one that can say he beat the other two"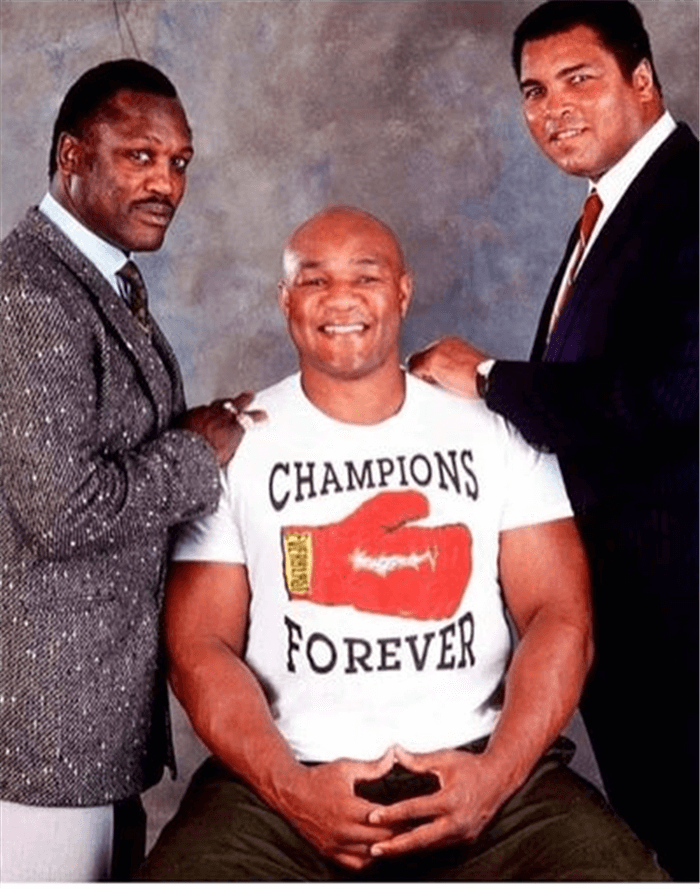 Another user named Shkëlqim Azuni wrote "Three of the five legends who made history", who do you think are the other two legends?
Another user commented on Foremen's "George Foreman's arms are huge!!!"
A user named David Gabriel jokingly wrote "Rock/scissors/ paper of the 3 boxing greats in the 60s and 70s …. "
A user with username Norm Sabih Hafna Pizzuto jokingly wrote "Where's Jake Paul ?"
Another user asked an interesting question "Where would Mike Tyson come in if he fought any of these 3 in his prime?". Well, let's talk about that.
What if prime Mike Tyson were to fight any of these legends?
If Tyson were to step into the ring against any of these three legendary fighters in their prime, it would undoubtedly be an epic battle. Against Muhammad Ali, Tyson would have faced a quick, nimble, and technically sound fighter with exceptional footwork and hand speed. The "Greatest of All Time" was also known for his infamous trash-talking. Which would have made for an intense pre-fight build-up.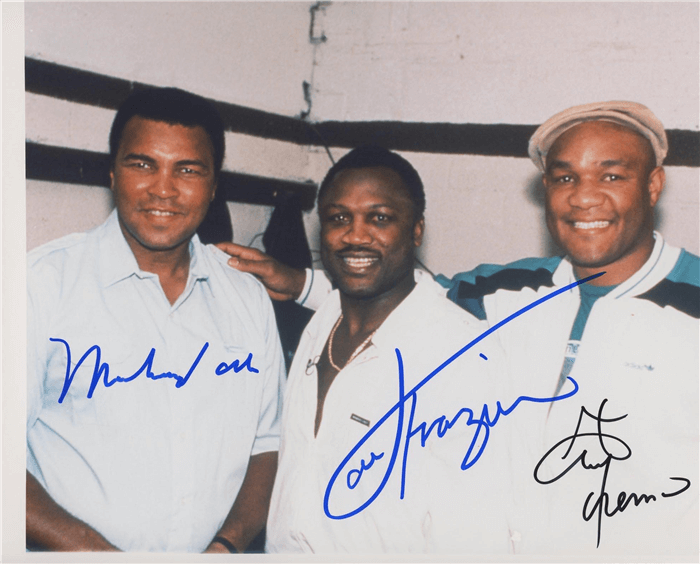 Against Frazier, Tyson would have faced a relentless, hard-hitting fighter with a never-say-die attitude. "Smokin' Joe" was known for his brutal combinations, relentless pressure, and relentless stamina. In a battle against Tyson, Frazier's relentless style could have caused Tyson some problems.
Lastly, against Foreman, Tyson would have faced a massive, powerful, and lumbering fighter with crushing power in both hands. Foreman was known for his raw power, relentless pressure, and granite chin. A showdown between Tyson and Foreman would have been a classic battle of power versus speed.
It is impossible to say for certain who would have come out on top in any of these matchups. As each fighter brought unique strengths and weaknesses to the table. However, one thing is for certain – a prime Tyson would have been an incredible challenge for any of these legendary fighters.
The mere thought of these four legends facing off against each other in their prime is enough to send shivers down the spine of any boxing fan. While we can only imagine what might have been; their legacies will continue to inspire and captivate future generations of boxing enthusiasts.