Brock Lesnar is one of the most popular WWE Superstars. The Beast Incarnate beat Omos at WrestleMania 39 and now has his sights set on Cody Rhodes for Backlash, a premium live event scheduled for Saturday, May 6, 2023, in San Juan, Puerto Rico.
Lesnar became a star attraction for WWE during his first run with the company back in 2002. During his two impactful runs with the company, he's faced some of the greatest wrestlers of all time, including Triple H, The Rock, Hollywood Hulk Hogan, John Cena, CM Punk, Daniel Bryan, and Randy Orton. Brock also ended The Undertaker's legendary streak at WrestleMania XXX in April 2014.
One legendary wrestler who hasn't wrestled Lesnar in a one-on-one match is Stone Cold Steve Austin. The Texas Rattlesnake was supposed to battle Lesnar in a King of the Ring qualifying bout on a June 2002 episode of WWE RAW, but he walked out of the company because of a disagreement with the match's finish.
Brock Lesnar was reportedly booked to win over Austin in their scheduled match on June 10, 2002. But this apparently upset Stone Cold, causing him to walk out of the company. Austin reportedly had prior disagreements with WWE's creative direction, but this was the breaking point for The Texas Rattlesnake.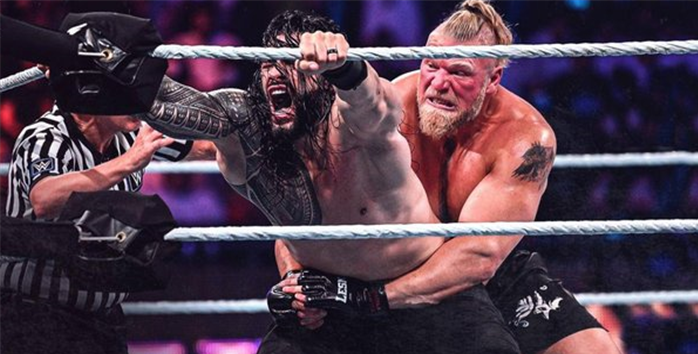 Apparently, Stone Cold didn't want to lose to Brock in a match with no build-up. However, with the proper build, Austin reportedly had no problem taking the loss to The Next Big Thing at a major WWE event.
Stone Cold Steve Austin vs. Brock Lesnar is a WWE match that's over 20 years in the making
After walking out of the company, Austin remained inactive as a wrestler until early 2003 and never had a match against Lesnar.
Stone Cold retired following his loss to The Rock at WrestleMania XIX on March 30, 2003. However, he'd return to the ring at WrestleMania 38, defeating Kevin Owens in the main event of Night One.
Stone Cold was reportedly contacted about returning for a match at WrestleMania 39, with Lesnar being a potential opponent for The Texas Rattlesnake. But Austin turned it down because he personally didn't believe he was in the right shape to perform on The Grandest Stage Of Them All in 2023.
Stone Cold vs. Brock Lesnar is still a match that many wrestling fans would like to see in the current year. Former WWE head writer Vince Russo said, "the best match Austin could have (for a comeback) would be with Brock Lesnar."
This proves that if Austin is pitched with the right story to work with, he can be persuaded to make an in-ring return. Maybe if WWE writers can come up with an interesting storyline for The Rattlesnake to sink his teeth into, wrestling fans can finally see a match that's over 20 years in the making.