UFC fans have shared their concern for Conor McGregor's fighting return after he was filmed playing roulette in a Las Vegas casino.
McGregor, 34, is gearing up for his UFC return against Michael Chandler later this year after recently completing filming for season 31 of The Ultimate Fighter alongside his rival. 'Notorious' hasn't fought since breaking his leg against Dustin Poirier in July 2021 and will look for his first win in over three years against Chandler, who has a UFC record of 2-3.
The Irishman was in Las Vegas over the weekend to watch Gervonta Davis knockout Ryan Garcia and he paid a visit to one of the casinos on the strip shortly after. McGregor was filmed gambling alongside rugby star Francois Hougaard with a massive stack of $100 bills in his hands, sipping on his Proper 12 Irish whiskey whilst putting money down.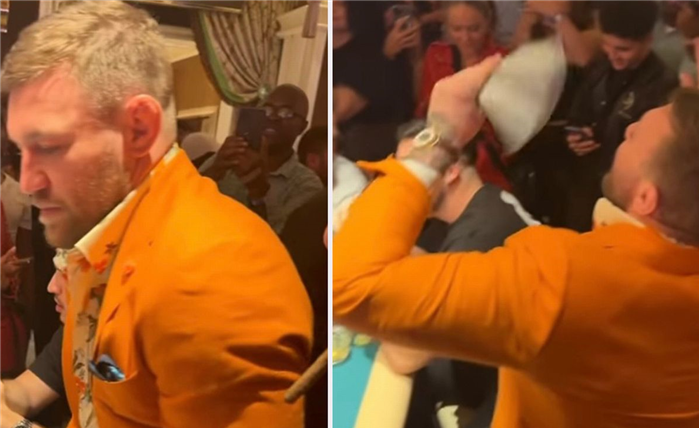 McGregor captioned the video "Gambling in Las Vegas, Nevada. One of life's great pleasures" but many fans were less than impressed with the clip. One user questioned whether McGregor will make his octagon return by commenting: "No way this dude is fighting Chandler" with another user adding: "Michael Chandler loving this post."
A fourth comment read: "No way is this guy winning a meaningful fight again" with a fifth user stating: "Chandler training for a fight and McGregor gambling at a casino, that's the difference." A final user advised McGregor to "humble" himself ahead of his fight, stating: "From role model to show off to nobody. Humble yourself dude."
McGregor bumped into Floyd Mayweather's dad whilst at the T-Mobile Arena on Saturday night and despite his rivalry with the 70-year-old's son, he requested to train with Sr in the future. Whilst insisting the trainer was the reason for his son's flawless 50-0 record in the ring, McGregor said to him: "You're the reason, I'd love to do work with you someday."
'Notorious' also visited Garcia's locker room after he was knocked out by 'Tank', encouraging the 24-year-old to fight his rival again but this time without a rehydration clause. "He's 1-0 on you, you're the two biggest names in the division, I want to see it again," McGregor told Garcia. "I want to see it again now, and I want to see it with no rehydration clause. Seriously. All the respect in the world to you. You're the future, you're the future of this game, and I'm going to watch you all the way."