Mike Tyson managed to win around six heavyweight championships throughout his career. His career was smooth sailing until James 'Buster' Douglas had him taste a bitter defeat. Since then, he experienced ups and downs both in the ring and in his personal life as well. Being a champion certainly has its fair share of troubles.
The heavyweight division looked for the shoulder of someone who could match the level of charisma of Muhammad Ali. It was then that a certain young boxer who was still a teen managed to knock out Hector Mercedes in the opening rounds of the fight. Since then, Mike Tyson shot upward in a dominating and violent way toward the top of the division. Moreover, in just a year, Tyson managed to achieve the almost impossible feat of becoming the youngest heavyweight champion in history, and the record is still unbroken.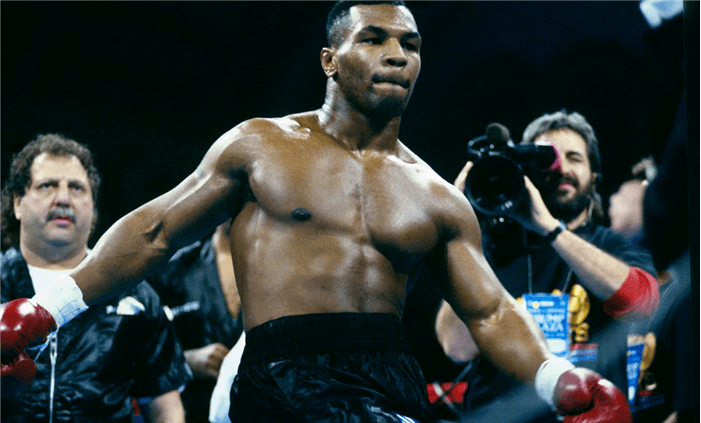 Recently, Tyson shared his thoughts about the time he was no longer a champion. Former UFC Welterweight champion Kamaru Usman appeared as the guest in a recent episode of Mike Tyson's podcast, Hotboxin'.
At one point in the podcast Tyson shared that even after earning great accolades throughout his career, he didn't feel happy. He then went on to reveal what truly made him happy – being alone by himself. Even the famous actor Michael Jai White once speculated that Tyson's fame has made him a 'lonely' person.
Mike Tyson reveals what truly made him
Kamaru Usman recently lost his hard-earned belt to Leon Edwards. So he shared his experience about the change in his career. He shared how free he feels now that he no longer feels the pressure to keep up with his position as a champion. Usman asked Tyson if he felt happier as a champion. Or was he driven to a state where he felt happier without the title of champion?
Tyson's response may surprise many as he revealed that he was happier being alone by himself, far away from all the money and fame. He felt safer being away from the show business. He said, "I was happier being alone with myself and being with me instead of just being caught up in the chaos of me".
Throughout his entire career, Tyson never worried about how people would treat him because he always remained true to himself, whether he had a billion dollars or just two dollars. For Tyson, being content with himself and not worrying about anything brought him the most happiness.
This statement by Tyson emphasizes the importance of self-acceptance and staying true to oneself. In a world where success and fame are often measured by material possessions and achievements, Tyson's words serve as a reminder that true happiness comes from within.
In his words, "If I got a billion dollars, I'm Mike. If I got two dollars, I'm always Mike. Being that I don't care about anything, or worry about anything". Despite being a former heavyweight champion and having reportedly had a net worth of $685 million, Tyson's ultimate source of happiness was not his fame or fortune, but rather his own inner peace.