10. Tattoo timing
The tattoo on Mike Tyson's face has become part of popular culture. It has become his own unique symbol, almost iconic and it is now recognised as his logo. In Hollywood, it is associated with his appearances in The Hangover franchise.
However, when Tyson first had the tattoo installed on the left side of his face, he was just a few short weeks away from a fight with Clifford Etienne. "I just thought it was a cool tattoo," Tyson said years later.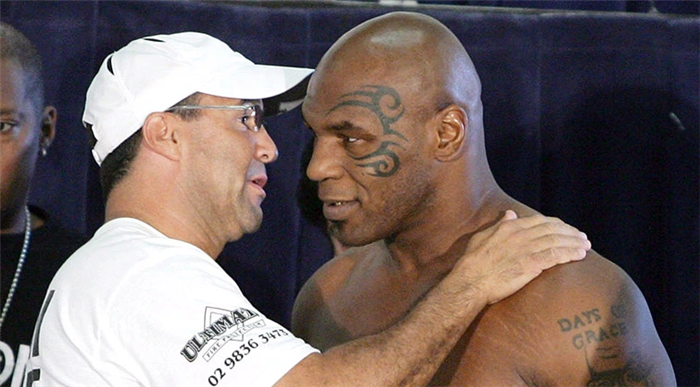 9. The car crash
During a crazy period in 1988, Tyson was arguably at the height of his fame but seemingly on a path of self-destruction. One night, in upstate New York, he crashed his car into a tree. The mainstream media ran with stories of a possible suicide attempt. There was speculation of a rift with then-wife Robin Givens, which some believed had turned nasty, and there were problems within his team, too.
"They're trying to make a freak show out of my life, to say I would try to kill myself," Tyson said. "It's funny. God, from a little mistake. I can't believe someone would consider me trying to kill myself. No one loves living more than I do. I got in the car. I always skid off crazy, take off crazy, drive kind of fast. I had just took off. I know something happened but I wasn't sure. I can't help if I got into a car accident. These things happen to people. People get into car accidents."
8. A late punch
Mike Tyson was returning to the ring in October 1999 following his conviction for assaulting two motorists. There was again controversy as the first round ended. After the bell sounded, Tyson dropped former WBA cruiserweight champion Norris with a late left hook. Only moments earlier he had been warned for using the same punch coming out of a clinch.
Norris rose and stumbled back to his corner but cited a damaged right knee and said he could not continue when the second round was due to start. Tyson claimed Norris could have fought on but it was ultimately his late blow that caused the fight to be ended early rather than Norris's decision not to carry on.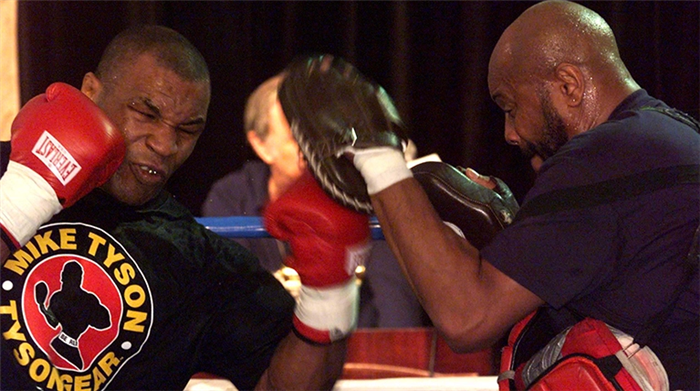 7. Arm-ed and dangerous
Mike Tyson was looking rusty against the veteran South African bulldog Frans Botha in January 1999. His timing was off and his trademark velocity and explosiveness seemed to have deserted him. With seconds remaining in the first round, referee Richard Steele motioned to separate the fighters from clinching but Tyson had a hold of Botha's left arm on Steele's blindside.
Tyson locked it up and went to hyper-extend Botha's elbow. 'The White Buffalo' grimaced and shouted in pain, and Tyson then clocked him with a left hook while ignoring Steele's calls to stop fighting. The respective corners and security members flooded into the ring and were forced to drag the combatants apart after the bell.
But Tyson found his dynamite in round five, laying Botha out with an emphatic right hand that would rank alongside any of his best shots in his blistering but short prime.
6. Bad vibes in Glasgow
When Mike Tyson visited Scotland in June 2000 to take on countryman Lou Savarese he brought a sinister air of impending conflict with him. Promoter Frank Warren's eyeball was bloodied as rumours of a literal bust-up with Tyson circulated.
Tyson cut a menacing figure and was far removed from the more jovial version that had visited Manchester to steamroll Julius Francis earlier in the year.
On a damp night inside Hampden Park, Tyson mauled Savarese in just 30 seconds, toppling his countryman with a huge left hook in the opening seconds. Tyson ploughed in with a succession of lefts and rights to finish the job, forcing referee John Coyle to step between them. But Tyson wanted more and he kept going, flooring Coyle with another wild hook as the official tried to break up the action.
Afterwards Tyson, still pumped up, then threatened to eat Lennox Lewis's unborn children in a typically unorthodox, controversial and crude post-fight interview.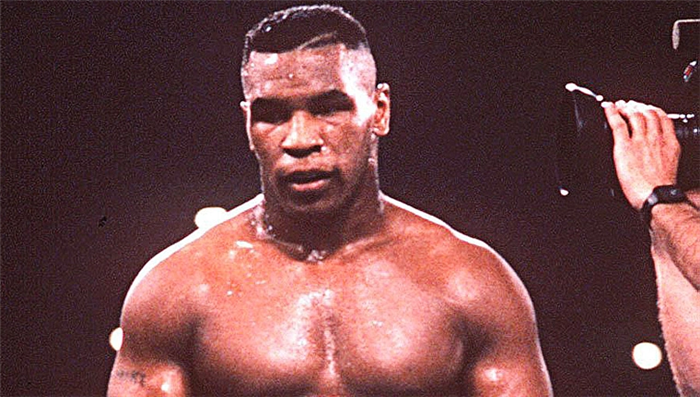 5. The Battle of New York
Mitch "Blood" Green was a notorious New York criminal and a former opponent of a young Mike Tyson. They fought in May 1986, with Tyson winning a 10-round decision in Madison Square Garden in a battle of New York heavyweights, It pitted Brownsvillle's Tyson against brash and outspoken Green, who was from Queens.
They met again in August 1988, in Dapper Dan's clothing store in Harlem and they fought again, but this time there was no ring. It was a streetfight.
And it would hit the head
lines of newsreels around the world.
Tyson said afterwards it had been his first scrap on the streets in seven years, that Green got close to him and he "just defended myself."
Green countered that Tyson sucker-punched him, because he was with his friends.
Whatever actually happened, Green's left eye was closed and Tyson's right fist was fractured, so the result of their rematch was not in any doubt.
4. Road rage
District Judge Stephen P Johnson said that Tyson had "lashed out at two innocent people" using "the hands and feet of a professional fighter". He had kicked one man in the groin and punched another in the face after a three-vehicle collision on August 31 in 1998. At the time, some felt more jail time would signal the end of his boxing career.
Tyson did go back to prison for what was called "a tragic example of potentially lethal road rage."
Tyson served nine months, paid a fine and underwent community work as part of his punishment.
Former promoter Frank Maloney called him "A human time bomb waiting to explode." Barry McGuigan felt it could be the final curtain because "the guy's very unstable."
It was not the end. There would be more fights, but the road rage incident was yet another example of craziness that had long been associated with the life and troubled times of Mike Tyson.
3. Prison
In 1992, Mike Tyson was convicted of raping beauty pageant contestant Desiree Washington. He subsequently spent three years in prison in Indiana but maintained his innocence in the decades following his sentence.
The incident took place in 1991 in the Canterbury Hotel in Indianapolis, where Tyson was staying while in town to judge the Miss Black America contest.
The trial gripped America and while Tyson was seen by many to be in his prime he had already lost to Buster Douglas and upon his 1995 release he reclaimed a couple of heavyweight belts but not the form of his destructive youth.
That night in Indianapolis changed the course of Tyson's career and his life irreversibly. His last two wins beforehand had been over Donovan 'Razor' Ruddock in March and June of 1991 and he did not fight again until he obliterated a hapless Peter McNeeley in August 1995.
2. Lennox Lewis press conference brawl
It was finally on after months of negotiations, but Tyson jeopardised it when they kicked off the media engagements. He and old amateur sparring rival Lennox Lewis came head-to-head to formally announce their long-awaited and hugely-anticipated June 2002 Memphis heavyweight showdown. Tyson, however, could not maintain control. He stormed across the stage to Lewis, a scuffle ensued and it resulted in the Englishman losing a chunk of his leg in Tyson's jaws. The scene became pure chaos.
Mike Tyson followed that assault up with a loud, profanity-packed rant at the stunned onlooking media, signing off to one journalist, "I will f**k you until you love me, fa***t."
Of course, Lewis was the boss when they finally did meet in the ring, closing the show with a punishing eighth-round right hand knockout.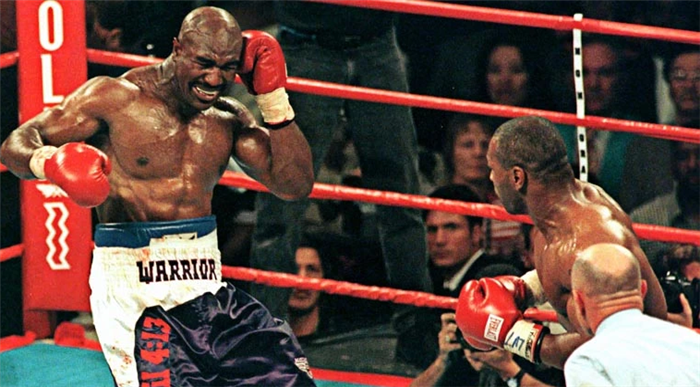 1. The bite
Of all the in-ring craziness that we saw with Mike Tyson, nothing topped this. Having lost valiantly in his first attempt to defeat Evander Holyfield, Tyson lost the plot in the rematch.
Complaining of being butted and unable to achieve a successful momentum-shifting breakthrough in the fight, Tyson spat out his mouthpiece and then, while in close, bit off a sizeable chunk of Holyfield's right ear. He then spat it out onto the canvas.
Holyfield jumped in pain, but Tyson shoved him and went to carry on with the fight. "I can't believe what I'm seeing," shouted Showtime's Bobby Cyz. No one could. Tyson was deducted two points. The ring turned into a battleground with police coming in to break up a crazed Tyson, who was pushing and shoving everyone in an attempt to carry on the fight while members of Holyfield's team tried to get to Tyson.
The night got wild in Vegas. A riot followed in the MGM Grand that resulted in gunshots being fired.