"They'll kill you by accident, especially when you're playing rough with them."
The "Tiger King: Murder, Mayhem and Madness" documentary on Netflix being a talking point on Twitter might have made Mike Tyson flash back to the time he notoriously owned two tigers himself during his heyday.
Or at the very least, it might have prompted Fat Joe to ask Tyson about it during their Instagram Live chat over the weekend. When the topic was broached, Tyson, 53, didn't hesitate to admit he was "wrong" for keeping the wild animals at his Las Vegas residence.
"I was foolish," Tyson told Fat Joe. "There's no way you can domesticate these cats 100 percent. No way that's going to happen. They'll kill you by accident, especially when you're playing rough with them, you're punching them back. They get hyped up, hit you back and you're dead.
"I'm just happy I educated myself," he added. "I was doing the wrong s—. I shouldn't have had them in my house, believing they were domesticated. I was wrong."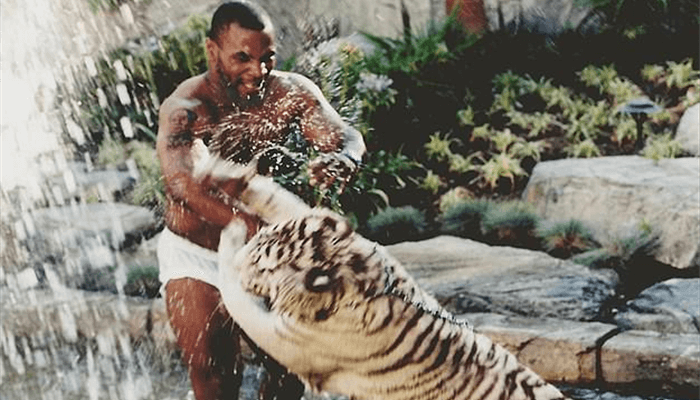 Although Tyson himself was unscathed by the tigers:
He did recount a story in which a woman inexplicably hopped the fence to his residence to play with the tiger — an incident that didn't end well.
"The tiger didn't know the lady," Tyson said, "so, it was a bad accident."
He added that the woman tried to sue him, but the lawsuit didn't fly since she trespassed onto his property. Still, Tyson said he paid the woman, nonetheless.
"Listen, when I saw what the tiger did to her hand, I had a lot of money back then, so I gave her $250,000, or whatever it was because she was just f—ed up, Joe."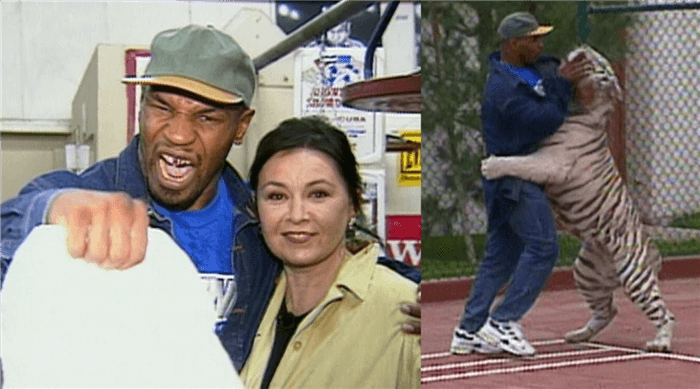 In 1996, Tyson played with one of his tigers in a segment for the television show "Inside Edition."
As part of their IG Live talk, Tyson also explained how owning the two tigers even came about, revealing that he was in prison when the transaction was made to bring the animals to his home.
"I was talking to one of my friends who I bought cars from, and he was saying one of my friends owed him money," Tyson said. "He said, 'If he doesn't pay, I'm going to take some of these cars and trade them in for animals,' and I said, 'What kind of animals?' He said, 'Horses and stuff.' And he said, 'They have some nice tigers and lions, too. If you got one of those, that would be cool in your Ferrari.' I said, 'That's true. Why don't you order me a couple and I'll be getting out in a couple of months.'