Kai Kara-France is considered to be one of the best flyweights in the UFC
This past weekend, the former interim flyweight champion was seen in action against Amir Albazi. A win against Albazi could've very well put him next in line for a potential shot at the title. However, despite looking like the more dominant fighter on the night, Kara-France was handed a split-decision loss. The backlash has been massive against the controversial decision, with many calling for the judges to be more accountable for their judgments.
Later, in one of his media appearances, the City kickboxing member, while sharing his conversation with UFC boss Dana White, revealed that the loss not only cost him his legacy but also a hefty amount of money.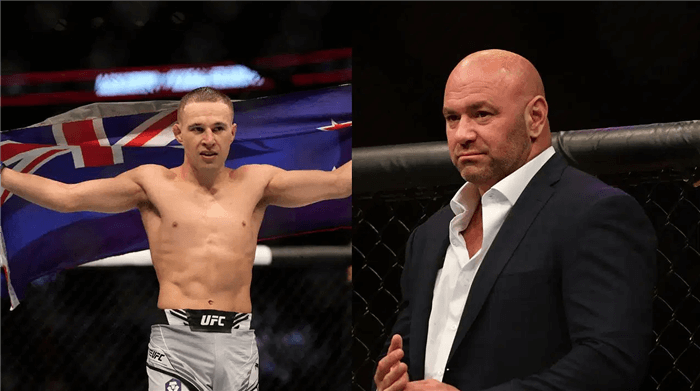 Kai Kara-France reveals Dana White thought he won the fight
As one would assume, Kai Kara-France is devastated after his controversial loss. A few days after UFC Vegas, 74, the 30-year-old sat down for an appearance on the MMA Hour. During the show, Kai Kara-France revealed that he had a conversation with Dana White, revealing that White also thought he won the fight.
Further in the interview, Kara-France spoke about how the controversial decision cost him $100,000 and the number three spot in the flyweight rankings. He said:
"That cost me $100 thousand, that loss. It cost me my ranking, no.3 in the world… You've just got to think, what are these judges even looking at?"
How did Kai Kara-France's teammate Israel Adesanya react to the decision?
Like the majority of the people, Israel Adesanya was confident that his teammate had done more than enough to earn the judge's nod. However, with the judges scoring the bout in favor of Amir Albazi, the UFC middleweight champion was shocked and rather disgusted with the decision.
Israel Adesanya even let out his frustrations on Twitter and called for strict changes to be made. The UFC middleweight champion even suggested that the judges should be interviewed after the fights and held accountable for how they score the fights.
While the possibility of this happening seems to be very less, the frequency in which controversial decisions are made seriously calls for a need for change in how the bouts are scored.
The fighters work extremely hard in order to prepare for fights and such decisions take a significant toll on their financial situations and their careers as well.