Mike Tyson vs Francois Botha:
FORMER heavyweight champion Mike Tyson rescued his fading career with a knock-out blow – landed when he was behind on all three judges scorecards.
The punch travelled no more than a foot or so but it took Tyson back to his place with the stars.
And what a punch. In boxing circles they talk with reverence of the short blow with which Muhammad Ali felled Sonny Liston.
They eulogise over the awesome power of George Foreman and Joe Frazier.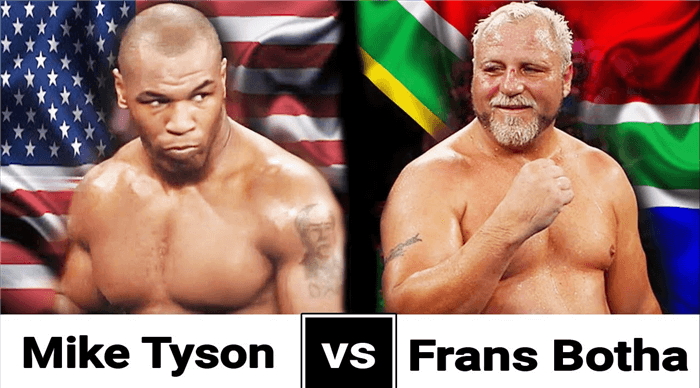 The punch which knocked out Francois Botha just seconds from the end of the fifth round of what was a brutal and dramatic comeback for Tyson in this desert city early this morning was on a par with any thrown by those great former champions.
One observer described it as like watching a plane crash. It was that devastating and that final.
It exploded into Botha's face with a sickening thud, bringing an involuntary gasp followed by a great roar from the 13,000 fans packing the MGM Grand Garden.
And as Botha collapsed and then regained his feet before reeling away in a drunken lurch only to again crash to the canvas, twitching, bewildered and beaten, the real significance of that shuddering blowhit home.
It was more than just the 40th knockout of Tyson's 46-fight life
It was the punch which saved his career.
But he bob-and-weave warrior style which heralded his most riveting, overpowering performance to dismantle Michael Spinks in 1988 is but a distant memory.
Now he is a puncher pure and simple, his decline succinctly put by Ali's former trainer Angelo Dundee.
"Everybody has a chance of kicking his butt," said Dundee. "Heck, the guy doesn't even sneer the way he used to. The veil of invincibility has gone bye-bye."
The 19-year-old won the award after his impressive performances in Chicago over Christmas when he won the US Junior Championship at 19&Under level.
Handball isn't the only sport Brady excels in – he is also a senior club footballer with Mullahoran and won a Cavan championship medal last year.