After making a strong debut at the Raw after Mania in 2002, Brock Lesnar was on a dominant run for the next two years. He wrestled all the big names in the company at the time. Lesnar shocked everyone when he defeated The Rock soon after his debut to win the WWE Championship. The Big Show, on the other hand, had been an established superstar in the company at the time.
When the two heavyweights clashed on an episode of SmackDown
They created a moment fans will remember for a long time. During their match, Brock Lesnar superplexed his opponents from the top rope. The ring imploded, and the ring posts broke apart. The ropes would also fall as the entire ring collapsed. Fans were thunderous as the two men went down with the ring.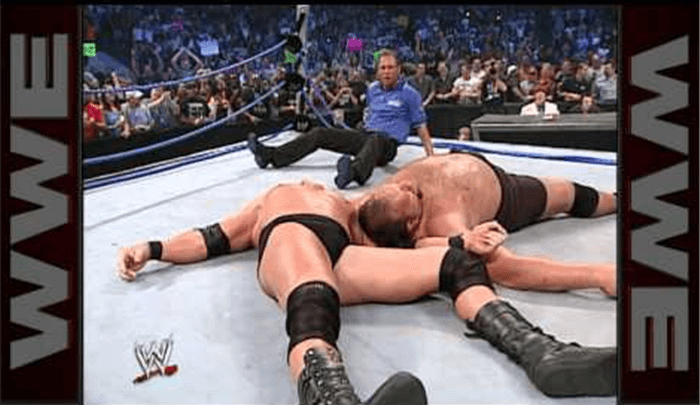 The match ended with a non-conclusive finish, and Lesnar retained his title because of the ending. The show went off-air with both men still down in the destroyed ring as medical professionals ran down to the ring. Even after the taping stopped, The Big Show would be down in the ring as a team of doctors and referees came down.
The ring has been destroyed similarly multiple times after this incident, most notably when The Big Show fought Braun Strowman recently. However, the moment was crucial in the initial years of SmackDown, as it helped the show become of equal importance as Monday Night Raw. Both men would also have a very successful career in WWE.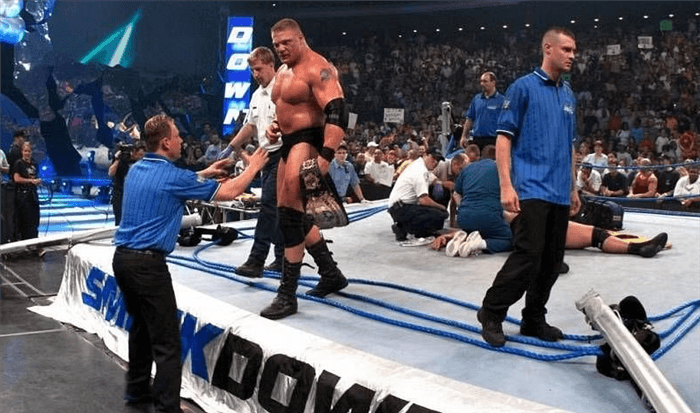 Fans react to the iconic moment between Brock Lesnar and The Big Show
Fans on the internet are fondly reliving the moment. The scene of two huge men down in a ring that has been destroyed will always stay in the minds of the fans who saw the match years ago. The match also resulted in helping Lesnar and Show get over with the fans on a new level.
The two former WWE Champions clashed once again in 2014 at the Royal Rumble. However, fans will always remember their iconic clash from over a decade ago and the visuals from that match. This was one of the very first times when the match got so brutal that the ring was destroyed.