As the sun kissed the horizon, an unusual serenity swept over the world of boxing on this Father's Day. The boxing ring was silent, yet whispers of a bygone era echoed in the hearts of millions. The legend of Muhammad Ali, a titan who once danced in that very ring, seemed to come alive. His daughter, Laila Ali, took to Instagram in a heartfelt homage to her father, imbuing the virtual world with a sense of nostalgia and bittersweet celebration.
A photograph of Muhammad Ali cradling an infant Laila in his arms. With this emotionally charged image, she unveiled not the world-renowned boxing champion, but a side of Ali only she had the privilege to know intimately – Ali, the father.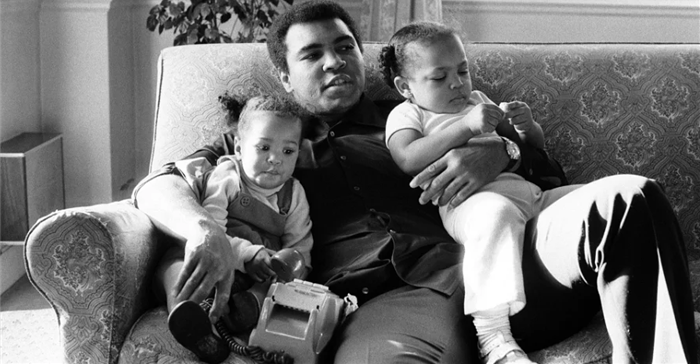 Laila Ali's nostalgic father's day tribute to Muhammad Ali
The touching image shared by Laila on Instagram, a tender moment between father and daughter, was accompanied by a caption that extended a heartfelt tribute to all fathers. "Happy Father's Day to all the men who are dads~Your love, presence, support, masculinity, and protection can never be replaced! We see you and love you! ❤️"
This loving acknowledgment stirred a wave of responses from fans who resonated with the tribute to fathers and fondly remembered the boxing legend.
User h.m 1986, resonated with the nostalgic image shared by Laila. He commented, "Little Leila in the arms of the king of boxing, it's a pity that he is no longer among us😍." Another user named Jame Wallace, deeply moved by Laila's message, wrote, "I love this. Thanks for acknowledging the Fathers. We rarely get recognition."
A fan named Mark Walker shared his sentiment. He wrote, "Father's Day is the most disrespectful holiday on the calendar. There are men all over the world that are On Post doing their jobs and representing, even though there is No affirmation. Your message is on time and Powerful Sis…🙏🏾🙌🏾💪🏾❤."
Sharing her own emotional connection to Muhammad Ali, Judith Judah remarked, "I miss him too. I love the fact he was never scared to speak his peace always amazed me as a young child I'm 56 now." Another fan named Omar Casalini's reaction brought a lump in the throat of many. He wrote, "❤️❤️❤️❤️Laila you had a very special father…"