But a father's devotion to his family is something that sometimes goes unnoticed. Because what they offer to the table is normal, even expected, the best fathers frequently go unrecognised which is why, we are here to see some of our favourite athletes celebrate fathers Day with their families.
Here's How Mike Tyson, Stephen Curry, Ric Flair, Dwayne Johnson, Tom Brady and Other Sporting Legends Celebrated Fatherhood: Happy Father's Day.
Tyson Fury uploaded a picture in his Instagram profile, with his kids seeming half sleepy during the early morning. His fans love him for being a real person, and not having to make the picture picture perfect. Tyson captioned the photo "Truly blessed by god! happy father's Day ❤️🙏"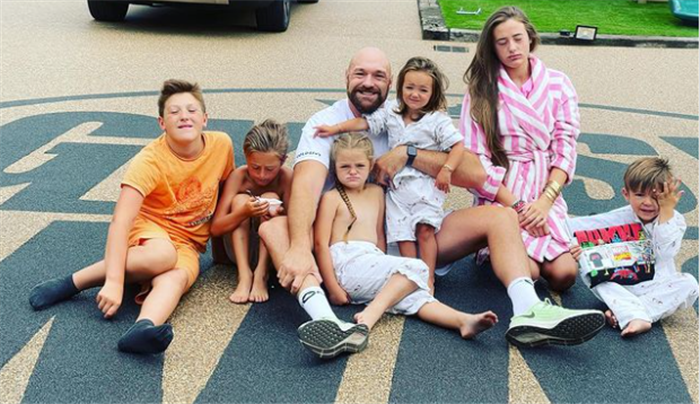 Tom Brady is an American former football quarterback player who played in the National Football League (NFL) for 23 seasons shared a picture with his father on his Instagram account. He expressed his love and respect for his father with the caption," On this Father's Day, all I can think of is how grateful I am to have been raised by the world's best Dad, and to now have three beautiful angels of my own who I have the joy of watching grow up. Being a Dad is the best thing in my life. I have learned so much about what it takes from my Dad and to be able to pass that on to Jack, Benny and Vivi means the world to me. They have taught me how to be present (still working on this daily 🤣)and cherish every moment (mostly😂) that we have as a family because that's what matters most. Their love for others and constant selflessness make me so proud to be their dad, and I know those traits come directly from everyone who is part of their life. Thank you, Dad, for being you, and thank you to my three amazing kids, for giving me the pleasure of being your Dad"
Dwayne Johnson acknowledged every father all around the world, as he shared a video on his Instagram account, he mentioned he was aware of his ambitions, his career and achievements, but once he became a father to his three girls, he actually found the motivation and inspiration to keep going in his life. Irrespective of all the differences, he motivates all fathers all around the world to protect their kids and families. Wishing them all fathers Day.
The caption to the video, "This message is for all my guys out there around the world. Accept your flowers today, my brothers 💐Massive respect and love as we go thru this wild, noisy, complicated, beautiful life as men and fathers."I'll take care of it".Happy Father's Day 💪🏾🩵~ dj
Ric Flair the American professional wrestler celebrated this Father's Day, with his queen, his daughter Charlotte. He too posted a picture to his account with the caption "Spending Father's Day With The QUEEN @charlottewwe! ❤️"
Dustin Poirier, the American professional mixed martial artist posted a picture with his wife and his little girl wishing "Happy Father's Day" to all fathers around the world.
Mike Tyson, the American former Professional Boxer posted pictures with his whole family on his Instagram account. Wishing Father's day to the amazing men who have been working hard to protect and take care of their families.
Ayesha Curry the Canadian-American actress made a post for her spouse Stephen Curry on account of fathers day stating, terming how wonderful and supportive the role he has been playing in all of their lives.
She captioned the picture with " Happy Father's Day Chooch!!! We love you so much. It is too much fun raising these 3 little humans together with my best friend and you add so much excitement, fun and wisdom to the journey! I am so proud of you. Watching you with our kiddos brings me SO much joy. Time to pop open a big wave and drive it down the fairway to celebrate!"