Mike Tyson loves wild animals. The retired fighter maniacally laughed after watching a kangaroo being hit on the Impaulsive podcast hosted by Logan Paul
Former heavyweight champion Mike Tyson started maniacally laughing after watching a video of an Australian man punching a Kangaroo. The fighter commented on the video on the 'Impaulsive' podcast hosted by Logan Paul. However, 'Iron' was not in his normal state. The 56-year-old retired boxer consumed psychedelic mushrooms throughout the episode.
"I saw this, look at how tall he is," said Tyson, referencing the kangaroo. The kangaroos are over 8 meters in height. The former heavyweight champion became fascinated after the action. It consisted of a man punching a kangaroo with a right hook to save a dog. This surprised Tyson. The fighter lost his mind laughing at the video on the 'Impaulsive' podcast.
Mike Tyson also loves wild animals. In the early days of his career, the fighter owned tigers in his household. The former heavyweight champion also talked about domesticating a hyena on a recent podcast episode.
Mike Tyson touches on his relationship with the Tigers
The former heavyweight champion Mike Tyson lived a ferocious lifestyle throughout his career. His intimid ating demeanor and the paychecks he earned led him to live a high-octane lifestyle. Another aspect of 'Iron's untamed life was the domestication of wild animals. At his peak, Tyson owned a tiger as a pet. The retired fighter recently explained the dangers of owning the wild beast on 'The Joe Rogan Experience.'
"Six-hundred, five-hundred," said Mike Tyson after he was questioned on the size of the wild animals. "That's when they're eating good, man," exclaimed Tyson. Joe Rogan asked the retired fighter about the potential harm it could cause to the people around them. To which he replied, "Definitely one of my friends or family members," which made Rogan chuckle. He continued, "That's the relationship with tigers and stuff. Lions are like dogs. They like hanging out with family. But Tigers, only hang out with you. You better hope he doesn't like one of your children."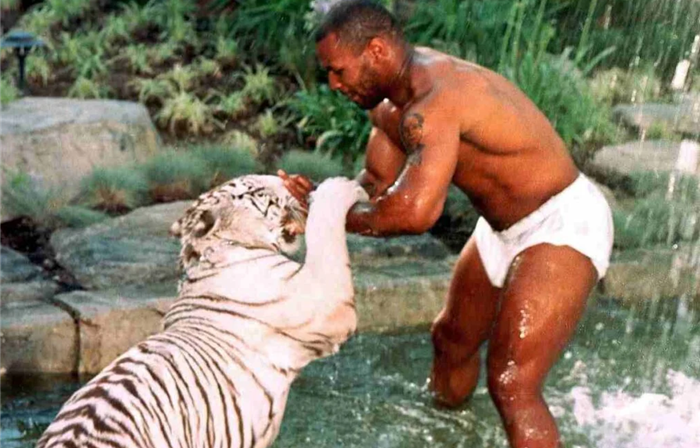 "You can't play with your children," said Tyson. He followed up, "He might kill you. They get attached to one person. They're not family people." The former heavyweight champion's love for wild animals always made headlines in the media.
To this day, the 56-year-old retired fighter talks about domesticating several wild animals on his podcast.