It would be a seismic shock if Francis Ngannou was to emerge victorious in his 'Battle of the Baddest' fight with Tyson Fury, live on TNT Sports Box Office on Saturday October 28. However the former UFC heavyweight title holder stresses that he believes "everything is possible" and even thinks a victory by decision is not out of the question. Fury has never been beaten in the ring in 34 attempts.
Francis Ngannou is relishing the status of being the underdog as he prepares to face Tyson Fury in the 'Battle of the Baddest' – and the former UFC champion insists that "everything is possible".
Incredibly respected in the Octagon with 17 victories in 20 UFC fights, Ngannou will embrace a new challenge when he steps foot in the boxing ring to take on the man many see as one of the best heavyweights ever.
The crossover fight – billed as the biggest since Conor McGregor and Floyd Mayweather faced each other in 2017 – takes place on October 28, live on TNT Sports Box Office.
But despite being written off by almost everyone, Ngannou feels he can spring a surprise and inflict a first defeat on Fury.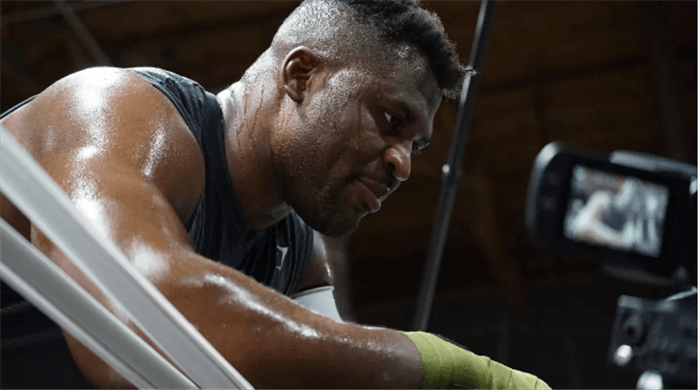 The Cameroon-born fighter boasts the reputation of having the world's hardest punch but he insists that victory by decision is possible.
"I really believe that everything is possible. And let me tell you something, from where I came from, everything that I have done, nobody believed in me," Ngannou told Carl Frampton for the special show 'The Face-Off', to be shown on TNT Sports at 7pm on Friday, October 20.
"The moment I went to do boxing for the first time I was 22 years old and people were thinking I was crazy. Even my mum told me, 'hey son, I love you and I will always support you, but I hope that you come to your senses at some point in time'. But I proved them wrong."
"It makes me feel confident because everything that I have achieved, that's what they said about me," he added.
Asked how he could win the fight, Ngannou responded: "Usually I like to say a knockout but I don't want to lose focus against him. He acts like a fool but he's very, very smart.
"I'm very focused and very ready for everything that's going to come. I know this fight is going to be tough for me."
Ngannou will have none other than all-time great Mike Tyson in his corner in Saudi Arabia. The former heavyweight champion has been mentoring the 37-year-old in preparation for the fight against his namesake.
"For me, it's very important. He has always been very important," said Ngannou about Tyson.
"I have always looked at this fight in the point of view of Mike Tyson. I'm the smallest guy inside which is not something that has happened very often. So, I know that I need some techniques from somebody that has been in the smallest size and nobody better than Mike Tyson."
Fury was asked if the presence of Tyson – the man he was named after – would be a "bittersweet" moment.
"He's a legend in the game and one of the biggest names in all of the world, never mind, just sports or boxing," responded Fury.
"To have Mike involved in this fight and this event, it just shows you how big it is. Mike, obviously, is a massive superstar so for Mike to be in Francis's corner is very good for both of us.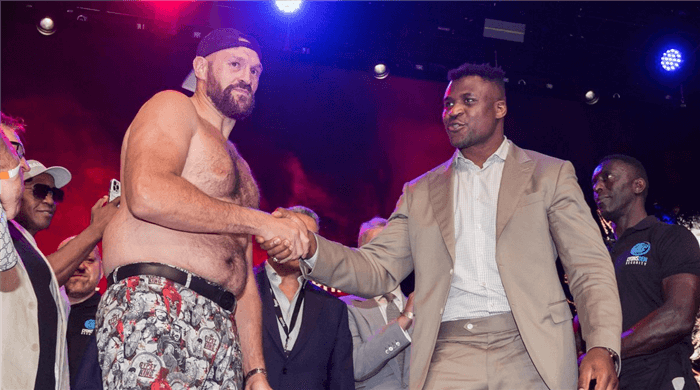 "It's good for him because he's a trainer, but good for me because having Mike Tyson attached to this event is fantastic.
"But Mike Tyson has a very famous saying: everybody has a plan until they get punched in the mouth."
HOW TO WATCH FURY V NGANNOU IN THE UK ON TV
Tyson Fury v Francis Ngannou can be watched in the UK & Ireland through BT, Virgin Media TV and Sky or online via the web or the TNT Sports Box Office App on October 28. You do not need to be a TNT Sports subscriber to buy this event.
Virgin Media TV customers in the UK: customers with a TiVo and/or V6 set-top-box should visit the On-Demand section and choose Live Events; customers with a Virgin TV360 and/or Stream set-top-box should go to the Pay Per View Live Events rail