Frank Bruno on the other hand was regarded as a gentle giant, a family man. In the ring he was obviously a force to be reckoned with, beginning his career in 1982 and racking up a 21 – 0 win record. In 1984 though Bruno came up against a ready James Smith.
Smith was on hand to lay his fist on Bruno's chin to hand him his first loss in the tenth round. The British hype around Bruno was real, but the commentator at the time shouted 'And the Bruno story is more or less over.' It wasn't.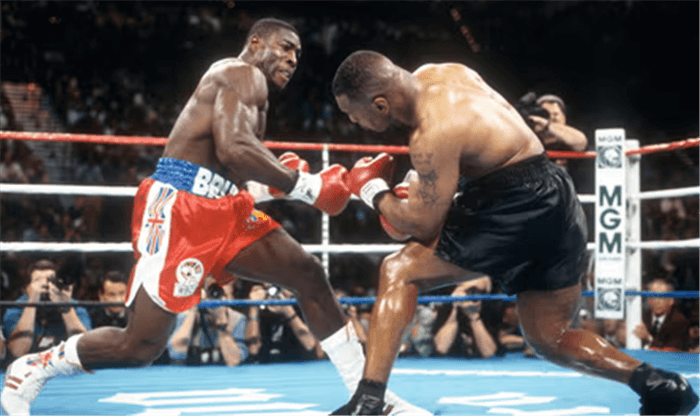 Bruno was back in the ring by September to face Ken Lakusta and over the years the wins started to rack up, including claiming the European heavyweight title against Anders Eklund via knockout in 1985. However, the 6 foot 3 "True Brit" fell short of his quest for a World Title, falling to Tim Witherspoon in Wembley for the WBA Championship. By the time Tyson had his shot at the WBA Championship, the holder was Bruno's previous vanquisher, James Smith. Smith was beaten by Unanimous Decision by Tyson 1987 for his WBA Title in 1987.
Come 1989 Tyson's personal life went into turmoil due to divorce proceedings despite holding four belts. Bruno on the other hand bounced back from his win to stake his claim at the title irrespective of the fact he had not put on the gloves for 16 months. His last bout against the last bout was against Joe Bugner, a heavyweight who had fought the likes of Muhammed Ali and Joe Frazier and he stopped in the eighth round.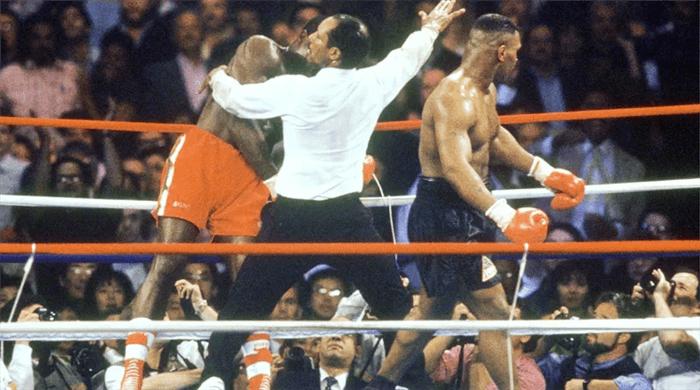 Few had Bruno coming away with the title, and many predicted he would once again fail in his attempt to claim a world title. They were right, however, the big news is that someone had rocked Tyson.
A feat was seldom done, as Tyson's feet buckled. It was not to be though for the Brit, ring rust was very evident, and come the fifth round and some devastating body blow followed by an uppercut seen Frank falter.