In a series of back and forth that has spanned over two days, former UFC two-division champion Conor McGregor and undisputed super middleweight champion Saul 'Canelo' Alvarez have taken to social media to exchange some hilarious, yet savage, virtual jabs.
Reigniting a long history of trade-offs, Conor McGregor threw the first punch on social media website X, where he replied to a video of Floyd Mayweather's majority-decision win over Canelo from 2013, in which the Notorious MMA star labelled the victory as "one of the greatest performances ever."
In typical McGregor fashion, however, it wasn't just a plain and simple compliment, with the Irishman going on to mention how he landed more shots on Mayweather than Canelo actually did, claiming he'd love "another go."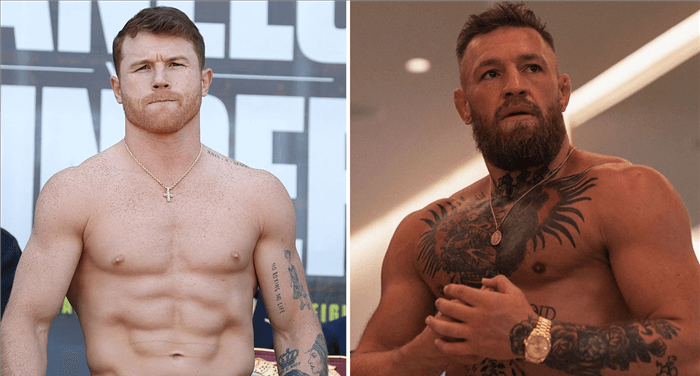 Canelo vs McGregor beef online
With McGregor seemingly wanting to revive his boxing career, Canelo shot down any prospect of this by tweeting back that he'd only need "one hand" to beat McGregor and wouldn't need to throw as many punches either.
Things quickly went from 0-100 as McGregor took what was an innocent interaction to another level. He threw insults such as "uncooked chicken" and "cornflake, no sugar," while going on to say he doesn't need hands to beat him as he would kick him "raw pink" and "stomp the ligaments" out of his knee, something McGregor knows all too well having previously suffered an ACL injury in 2013.
Canelo brushed aside the petty insults and branded McGregor a "kid" who is all talk but quits when it matters. As early as this morning, McGregor responded by saying he has never seen a Canelo match as he is not a draw, that the Paul brothers outdraw him, and he seemingly ends the back and forth by telling Canelo to go and "fight for real."
In regard to the two fighters, Conor McGregor's last fight was a TKO loss to Dustin Poirier, in which the Irish superstar suffered a broken left fibula which he has slowly been rehabbing ever since. Canelo, on the other hand, has fought just as recent as the 1st of October in a winning effort against Jermell Charlo, and has two more fights to come in 2024, as per a deal he signed with PBC.
Conor McGregor isn't as inactive as it may seem, though, with the Notorious star recently having re-joined USADA, the US anti-doping agency testing pool, something which is usually seen as a fighter's first steps when getting back into the Octagon. Although, this has become slightly more complicated due to USADA announcing plans to part with UFC at the end of the year.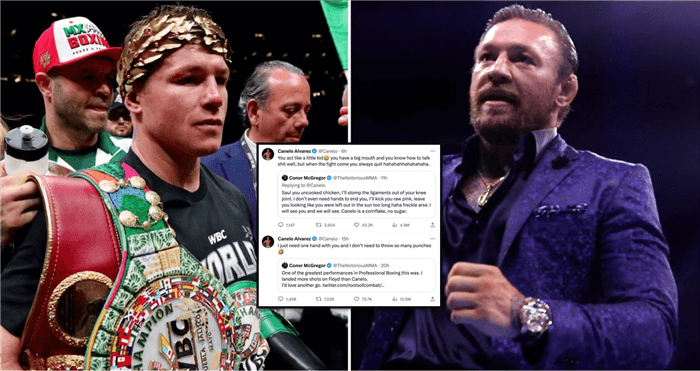 The history of beef between McGregor & Canelo
As for McGregor and Canelo, this isn't their first rodeo with one another, as the Irish-born fighter scouted out the boxer as early as 2017, where he called him "flat-footed" in an interview. Although, in 2021, Canelo turned down the idea of fighting McGregor, saying "Don't try man, don't try."
A persistent McGregor came back again and called out Canelo to a boxing fight as recent as May of this year, saying he would have "no problem" fighting the Mexican in his own world.
Who knows if a bout between these two legends of their respective sports will come to fruition, but one thing is for certain, fans of both sports and fighters would love to see more virtual jabs in the future.