Nate Diaz has a gift for street brawls, which was once more on full show on Friday in New Orleans.
A new video reveals that Diaz not only caused a physical incident when he threw a water bottle at Netflix reality series star Chase DeMoor at a Misfits Boxing match where his teammate Chris Avila was competing. Diaz also choked a man to death in a street brawl in New Orleans after the match.
It's unclear how or why the scuffle started, but the video captured how it ended – at least for one man. The video was posted by social media and YouTube influencer JiDion, who wrote in a lead-in tweet, "Broooo I'm f*cked up and Nate Diez [sic] choked out my homie."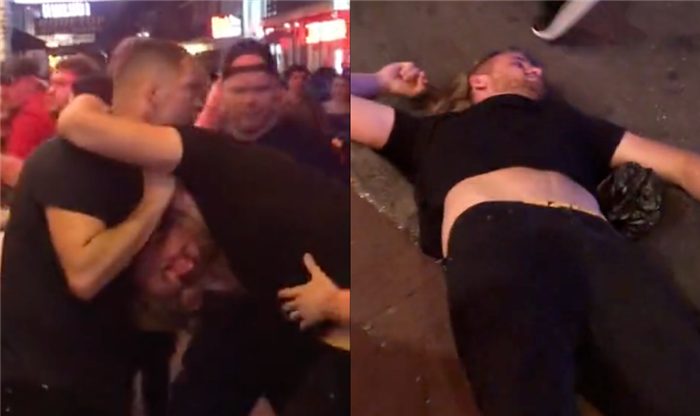 Shortly thereafter, other videos surfaced of DeMoor in a street brawl against multiple people. The caption that accompanied the video, posted by gamer OVERT, read, "Chase Demoor fights Nate Diaz whole team in New Orleans."
The video appears to be taken in front of the same businesses that were visible in the original Diaz choke video.
Diaz has quite the resume of fights in and around events he's not actually competing on. From the infamous Strikeforce Nashville brawl, to a fight against Khabib Nurmagomedov and company at a World Series of Fighting event, to the more recent ejection at the Jake Paul vs. Anderson Silva event, Diaz and his squad have proved unwilling to back down.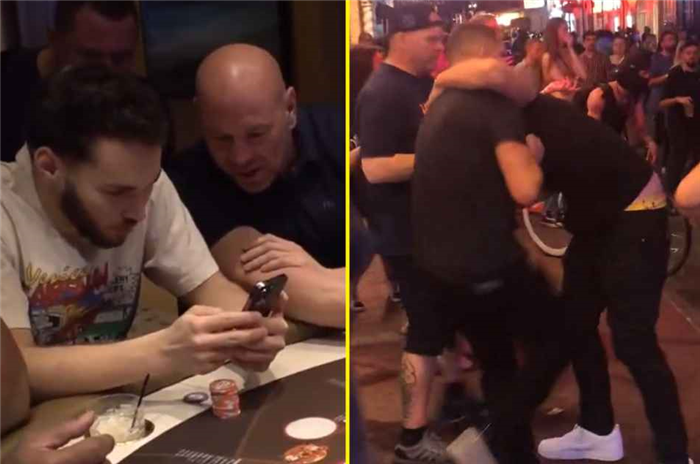 Alleged injuries
YouTuber Keemstar, who appeared to be with JiDeon later posted a video of who appears to be the man Diaz choked out. The "Logan Paul lookalike" showed off a nasty gash on the back of his head.
Demoor reacts
Saturday, DeMoor reacted after the string of videos were posted on social media.
"Nate Diaz top 5 softest dudes in UFC history," he wrote. "Jake Paul is gonna have a field day with bro."
Dana White reacts
Shortly after the video went viral, a live stream of UFC president Dana White playing blackjack caught the moment he first watched the video.
Initially, White thought the man choked by Diaz was Logan Paul, a comparison many on Twitter also made.
Conor McGregor
While White didn't necessarily seem to find the video amusing, one other MMA luminary did, as longtime Diaz rival Conor McGregor expressed on Twitter.
Hahaha Nate on a rampage tonight! Let's go Nate! Hahaha
Jake Paul pokes fun
Saturday, Jake Paul and Logan Paul created a faux "self defense" instructional video for "if you see a homeless Stockton man trying to come at you in the middle of the streets" in an attempt to poke humor at the situation.