Today let's have a look at the 4 times Ali looked vulnerable in the ring and was knocked down by his opponent. Though there are four instances where Ali was knocked down, as in his knees hit the canvas, none of Ali's 5 professional losses came by him being knocked out.
Muhammad Ali vs Chuck Wepner – Coliseum, Richfield, Ohio
Incredibly this was the last time Ali was knocked down in a fight, despite how I'll he'd be by the final stages of his career. What's more surprising is that this fight wasn't Ali returning from a long layoff Or anything of the sort. He was fresh off beating George Foreman and recapturing his heavyweight gold.
Wepner was then a certified journeyman who was thought as being an easy tune-up for Ali. Right the opposite happen when he almost made it to the final bell of their meeting in 1975. During the ninth round, Wepner managed to knock down Ali with a swift hook to his body.
Later footage revealed that Wepner had in fact stepped on Ali's foot during the knockdown. While the former Marine thought he was about to become a millionaire, Ali was pissed. He outboxed Wepner for the rest of the fight, cutting him open and knocking him out in the closing seconds of the final round.
Muhammad Ali vs Sonny Banks – Madison Square Garden, New York
This was during the period in Ali's life when he had been dubbed the Nostradamus of Boxing for his ability to predict the exact round he'd finish the fight in. For this Ali had predicted he'd close the fight in the fourth round.
To everyone's shock, Ali was knocked down by Banks in the opening round itself. Not one to be held down by minor inconveniences, Ali went on live by his word and finished the fight in the fourth round.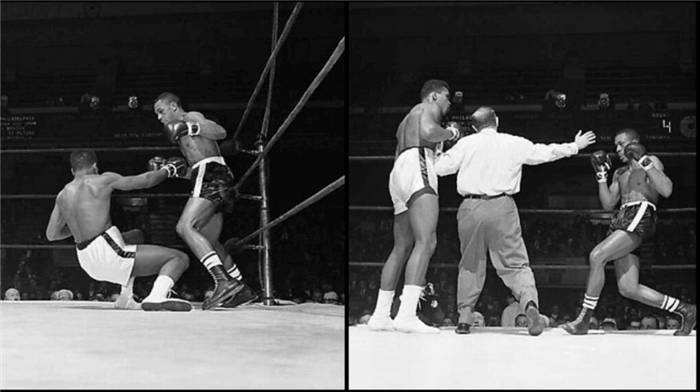 Muhammad Ali vs Henry Cooper – Wembley Stadium, London
Ali's first professional fight outside the US started with a disaster when he was knocked down by Henry Cooper in the fourth round of their fight. Luckily for Ali the knockdown came late in the round, as shortly after he hit the canvas, the round-ending bell was rung.
This closed down any opportunity Cooper might have had in this historic moment. As the fifth began, Ali went on to piece up Cooper, cutting him badly and winning via TKO in the fifth, incidentally the same round he'd predicted to finish the fight in.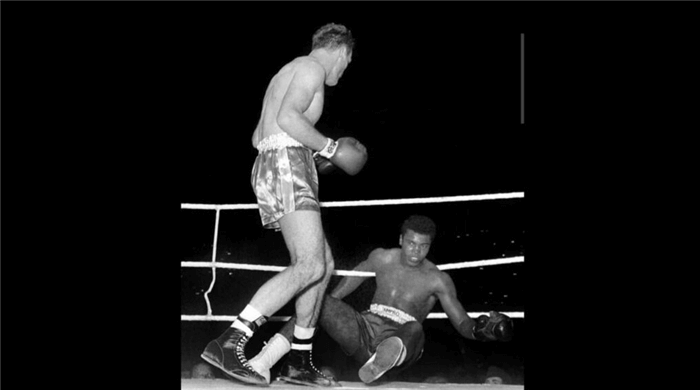 Muhammad Ali vs Joe Frazier 1 – Madison Square Garden, New York
The only fight where Ali was unable to get back up. Although in a literal sense he certainly was able to get back to his feet after the thunderous left hook landed by Frazier. This was Ali's first title fight after having served his suspension for refusing to be drafted.
Ali was knocked down earlier in the ninth but that had been not recognized by the official as such. However, he had trouble catching up with Frazier and his relentless power shots. Ultimately round 15 was where Frazier decided to put up his finishing touches as early in the round, a left hook would send Ali to the canvas.
Though he got back to his feet by the count of 4, Ali was not able to retaliate as he had in the prior instances where he'd been knocked out. This would be Ali's first-ever loss in professional boxing.