Former five-division champion 'Sugar' Ray Leonard is widely regarded as one of the best pound-for-pound fighters ever. The boxing legend competed in 40 professional bouts in his career and has put on classics with legends like Thomas Hearns, and Roberto Duran among others. This might be enough to strike fear in any opponent he faced during his time as a boxer. However, there was one man who made the mistake of provoking Leonard and had to pay dearly for this.
In 1982, Steve Sinclair, a former amateur Heavyweight, made the mistake of hitting 'Sugar' Ray Leonard near his eyes during a sparring session on a cruise ship. 'Sugar' had recently undergone eye surgery and had specifically instructed Sinclair not to hit him in the face. The incident was captured on video where the two can be seen trading punches.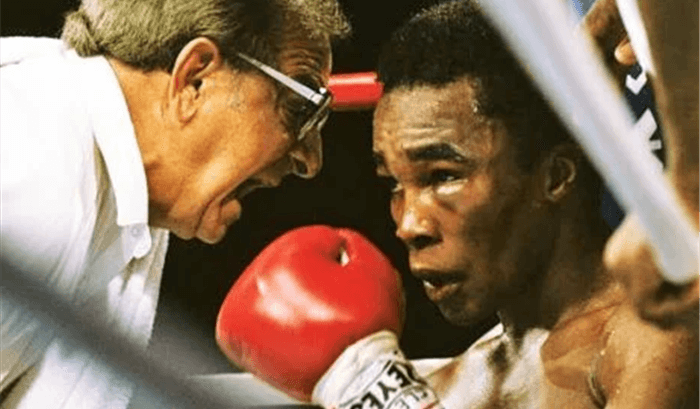 However, the amateur Heavyweight targeted Leonard's face which immediately changed the tone of the session. The former four-division world champ would then land a body shot on Sinclair which certainly had him hurt. Moreover, a second body shot would put Sinclair on the ground as he struggled to stand up. The video which has since gone viral prompted a wave of reactions from boxing fans.
Fans react to 'Sugar' Ray Leonard beating up an amateur Heavyweight
A user named James Bamford claimed that he remembered when this happened and gave some good advice for the people watching. "I remember when this happened. Don't f**k with the guys who do this for a living," he wrote.
Another user named Lutalo Muhammad had a proverb to describe the situation. "Don't poke a sleeping lion," he wrote.
However, a user named Steve Luttrell defended Sinclair claiming that his shots were accidental while Leonard's were on purpose. "Amateur accidental gets one on a pro. Pro takes it poorly and hits an amateur with two hard body shots. Good one, sugar," he wrote.
Moreover, a user named Boo Hooauimaannii made his feelings for the boxing legend clear. "No one likes Sugar Ray Leonard," he wrote.
Lastly, a user named Yemi claimed that although sparrings are meant to be light-hearted but taking them seriously could also rile up the opponent leading to disastrous consequences. "Sparring is meant to be lighthearted and fun. But when you hit someone hard you will make their blood boil, esp if the spar is meant to be light," they wrote.
The incident sparked a heated debate among boxing fans about the ethics of sparring. While some fans have praised Leonard for his handling of the situation, some criticized him for his behavior towards a fellow boxer.