It has been seven years since Muhammad Ali left the world. However, his imprint on humanity fails to abandon its shine or luster. From the common folk to celebrities, anyone who crossed paths with Ali couldn't deny getting enamored by his presence and aura. Even world leaders failed to escape from this phenomenon. Former President of the United States, Barack Obama, idolized Muhammad Ali. He even received a special gift from the greatest athlete of the twentieth century when he entered the Oval Office.
Comedian and television host Hasan Minhaj met with former President Obama for a tete-a-tete. During the final leg of his second presidency, roughly six months before he demitted office, Muhammad Ali passed away at age seventy-four. On June 4, 2016, USA Today published an essay Mr. Obama wrote in 2010, celebrating the fifty years of Ali's presence on the world stage – from when he won the gold medal in 1960 at the Rome Olympics. He wrote, "…his unique ability to summon extraordinary strength and courage in the face of adversity, to navigate the storm and never lose his way."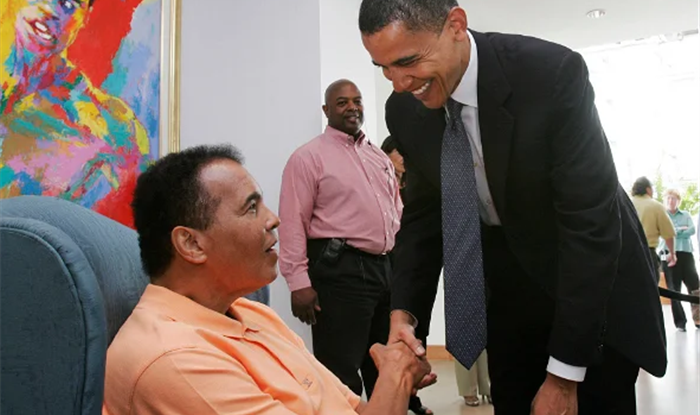 When a newly elected President received an invaluable gift from Muhammad Ali
'The Hope for a Hopeless Generation' started with Minhaj checking out the books, songs, and movies mentioned by Mr. Obama in his end-of-year list. Then the footage crossed over to a shelf. On top, enclosed in a glass case, was a pair of boxing gloves hand signed by Muhammad Ali. As the two reflected on the priceless collection, Mr. Obama said that the boxing great brought the item to his Chicago residence when he won the election.
Recollecting, he shared that Ali, during the time he lived in Chicago, used to live in the same neighborhood where his family lived. He said, "…by that time he, you know he, he was already having trouble speaking…but somehow managed to like communicate just through his face…" So when Minhaj asked whether Ali did his usual items to entertain, Mr. Obama said he did and did quite a few magic tricks the kids loved.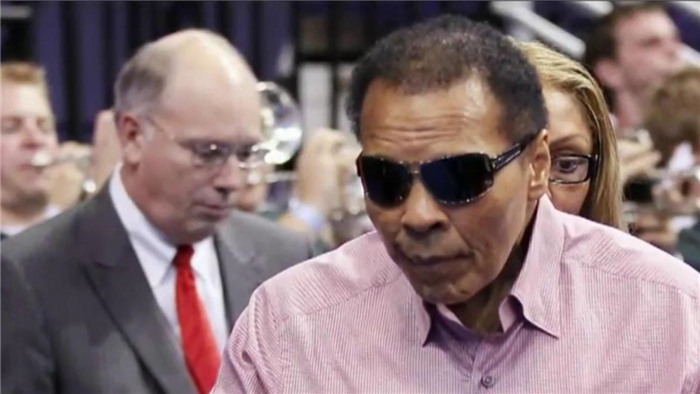 The former President called Muhammad Ali a big soul. He stood among those rare humans. Once you meet them, you will realize that they are the exact persona of what you always dreamt of.
He cited a few other examples, such as South Africa's anti-apartheid leader and first President, Nelson Mandela, the Dalai Lama, and even Queen Elizabeth.
On Father's Day, former world champion Laila Ali paid a touching homage to her father—the legend who meant a lot to millions across the globe.